Hero

The Hero, dressed in the Brave Vest, as seen on the cover of the PSP version.
Vital statistics
Title
Gender
Male
Race
Human
Faction
Health
50
Level
1
Status
Location
The Hero is the playable character of the main Hero quests in Half-Minute Hero, Half-Minute Hero: Super Mega Neo Climax and Half-Minute Hero 2. He is a silent protagonist, never uttering a word of dialogue. The Hero is a pawn tasked by the Time Goddess to stop various Evil Overlord's from using the Spell of Destruction to destroy the world.
Goddess Room Description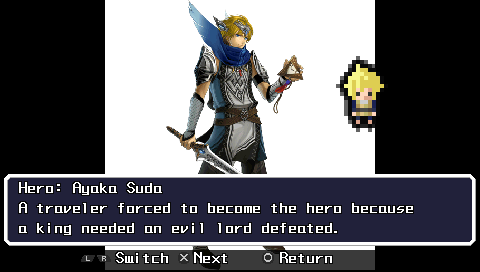 Ad blocker interference detected!
Wikia is a free-to-use site that makes money from advertising. We have a modified experience for viewers using ad blockers

Wikia is not accessible if you've made further modifications. Remove the custom ad blocker rule(s) and the page will load as expected.