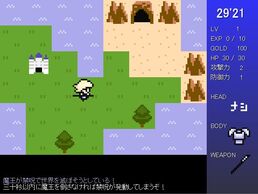 This was the precursor of Half-Minute Hero
The objective of the game, is to the defeat the Magician in less than 30 seconds before he casts the Spell of Destruction.
You can buy time for 100G in the castle and upgrade your equipment.

You can download the beta here [1]
Ad blocker interference detected!
Wikia is a free-to-use site that makes money from advertising. We have a modified experience for viewers using ad blockers

Wikia is not accessible if you've made further modifications. Remove the custom ad blocker rule(s) and the page will load as expected.